What is a courier facility near me?
The pandemic has sped up the move toward a more digital world and caused changes in the way people shop online that are likely to last for a long time. It also seems to have changed the way people buy things for good.
We all buy more things online and track our packages, so we've all seen the phrase "arrived at local courier facility" a lot when the goods have reached their last destination.
What is a courier facility near me?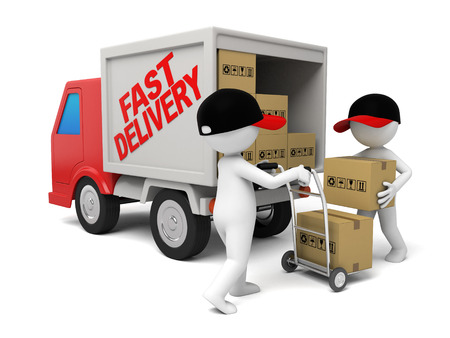 A local courier facility is a delivery service that picks up and drops off packages and items from one place to another. It is usually run by a delivery or courier company or by small businesses in the city, like supermarkets, grocery stores, and many others.
Shipments can come to a local courier facility as either single boxes or pallets. If it's on pallets, it needs to be broken down into individual packages. The packages are scanned and put into piles that go with the routes of the vehicles.
Local courier services are usually provided by small cars or mini-trucks that serve a local area, including rural areas nearby. This means that packages are delivered quickly and efficiently, usually the same day within city limits.
In a nutshell, at a local courier facility, they receive, sort, and move goods and other shipments or items within the local area. Because the delivery needs to happen quickly, the local courier service is usually run on a small scale. It was built to be as efficient as possible, so it can handle incoming shipments, sort packages, and handle packages in a way that allows for fast, efficient delivery to the recipient's address.
Now that the idea of a "local courier facility" is clear, let's look at the last step in the delivery process before the goods got to us: "arrived at local courier facility."
What does it mean when it says, "Arrived at local courier facility"?
After you place an online order and the seller or retailer confirms it, they will ship the package from the place where it was made or stored and give it to a courier service, which will arrange delivery. Then, when the package arrives, you'll get a tracking point via email, text message, or an online portal.
"Arrived at a local courier facility" means that the vehicle carrying your product or package has arrived at the processing hub, which is usually a local delivery facility, and that the parcel will be processed in a few hours while sorting and separating items from the collection and moving to the next step, where it is loaded onto vehicles before it is delivered to your place of business or residence.
For example, if you live in Southampton, you will be notified that the parcel has arrived at the nearest Local courier facility in Southampton. This usually means that you will receive the parcel later that day, depending on the size of the parcel, the time of day it arrived, seasonal changes, and so on, and it will be sent to your location from there.
Once the goods reach the local courier facility, it usually takes between 1 and 2 days for them to be delivered to the door step of the receiver.
When packages arrive at a local courier facility, the receiver has the option of picking up the packages from their location. This depends on the instructions given at the time of the order and how quickly the goods need to be delivered.
Can you move packages from one local courier center to another?
The person who sent the package doesn't have the power to move it from one local courier facility to another. It is up to the person or team who runs the local courier facility and their regional processing hub on a daily basis. But the recipient can ask for a change of delivery address, and if the new address is outside the area covered by the local courier facility, they may send it to a different local courier facility that is closer to the new delivery address. Usually, the receiver would have to call the sender to tell them to send it somewhere else. If it was okay, the sender would tell the courier to send it somewhere else.
Where can a store like Shein find a local courier service?
As the world works to recover from the pandemic, more and more people are shopping online. This is because COVID-19 has changed the way people buy things in a big way. Shein is one of the companies whose growth rate is very high. According to BBC News, Shein has over 600,000 products for sale on their online platform at any given time and will make close to £7.4 billion in sales in 2020.
Shein sells all over the world, in more than 90 countries. One would think that their local courier facilities are very important to how they work. It's not like that. Their main place of business is in China, where they make and package most of their goods.
When a customer places an order on Shein and it is processed, the packages are sent all over the world, where they are given to the local couriers or postal networks. From there, it will be sent to different countries around the world and given to local courier facilities to deliver to customers.
Is there a place to process things like a local courier?
Freight forwarding companies and fulfillment centers tend to run their facilities like a local courier service. Even though the way packages come in and go out may not be the same, the way they are handled is basically the same. One of the forwarding companies, like ForwardVia.com, has a local facility that accepts packages from businesses and UK stores or retailers.
It doesn't deliver to local addresses, but it gives international shoppers a UK address that they can use to buy from UK retailers. The UK retailers then arrange to ship the items all over the world.