Curly Hair Taper: What It Is, How to Get It, and How to Style It
Do you wish to spice up your appearance yet have curly hair? Are you sick and weary of trying to force your curls into styles that don't work for them? If you responded "yes" to any of these questions, a curly hair taper may be for you.
Hair is tapered shorter on the sides and back of the head over time, but on top it is left longer and curly. Any form of curl, from loose waves to tight coils, can look beautiful in this cut. It can also add complexity and structure to your hair while helping you strike a harmony between your curls and your face shape.
How to acquire one, how to style it, and how to maintain a taper cut for curly hair are all covered in this piece. After reading this article, you'll be well on your way to mastering the art of the curly hair taper.
How to Get a Curly Hair Taper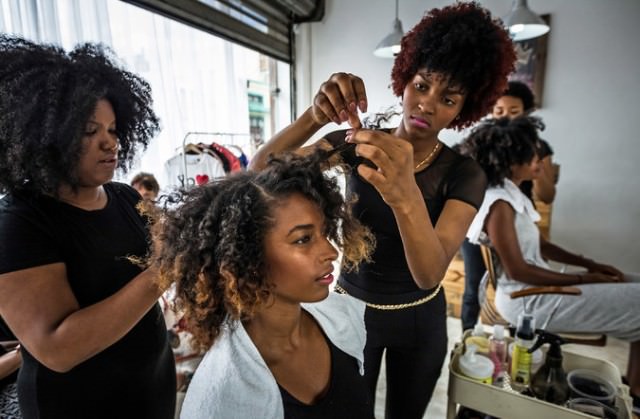 Knowing the distinction between a taper and a fade is the first step in achieving the perfect taper for curly hair. Unlike a fade, which includes very close shaving of the hair, a taper entails a more gradual transition from longer hair on top to shorter hair on the sides and back. Keeping some length and volume at the top while achieving a clean and sharp look on the sides and back is possible with a taper, making it the preferred style for curly hair.
The following step is to select a taper that complements your personal taste and sense of style. Tapers can be classified as low, medium, high, or drop. Both the low and mid taper begin below the ear and end at the nape of the neck, whereas the low taper begins closer to the temple. While a drop taper follows the contours of the head and falls behind the ear, a high taper begins at the temple and ends at the nape of the neck.
Consider your face shape, hair texture, and personal choice when deciding on a taper. A high or mid taper, for instance, can provide definition and length to a round face by emphasising its angles. A low or drop taper will soften your angles and create curves, making you look less square. A high taper might elongate a long face, thus it's not recommended if you want to prevent that effect. If your face is shaped like a heart, a mid or low taper can help to create harmony between your forehead and chin.
The last step is to stock up on the supplies you'll need to achieve a tapered cut for curly hair. You can get your hair tapered professionally by a barber or stylist who focuses in curly hair, or you can try it at home with care. Clippers, scissors, combs, and pomade are all you need to do it yourself. Additionally, there are additional measures you must take:
You should begin by using shampoo and conditioner designed for curly hair.
Apply a leave-in conditioner or curl cream after drying your hair with a microfiber towel or t-shirt.
Make a side or centre part in your hair using a wide-tooth comb or your fingers.
Put several clips or bobby pins at the top of your hair to keep it back.
Start by trimming the sides and back of your head in an upward motion with your clippers set to the desired
length (often between 1/8 inch and 1/2 inch).
Blend the length of your hair from shorter to longer as you move upward following the shape of your head.
Get out the scissors and smooth out the frayed edges and stray hairs.
Take down the top piece of hair and comb it through with your fingers or a comb with wide teeth.
Define your curls and add shine by using a pomade or gel.
Taper your curly hair in whatever way you like.
How to Style a Curly Hair Taper
One of the best things about having a tapered cut of curly hair is the versatility of your hairstyle options. Curly hair can be worn in a variety of ways, from its natural state to one that has been styled with a diffuser or curling iron.
Some samples of appropriate attire for various events are provided below.
Casual: Leave your curly hair taper natural and allow your curls loose if you're going for a low-key, relaxed look. Use your fingers or a pick comb to fluff up your curls for added volume and structure. This cut is great for wearing on a regular basis, whether to class or the office.
Formal: Curls can be tamed and a sleek, shining appearance achieved by using gel or mousse for a formal occasion. For a classier effect, part your hair down the middle or to one side and tuck it behind your ears. This look is perfect for prom, a wedding, or a black-tie party.
Edgy: Create some waves or curls at the crown of your head with a diffuser or curling iron for an edgy twist on the curly hair taper. To achieve a more unconventional style, you can use pomade or wax to form spikes or twists. Fun events like music festivals or concerts are perfect settings for this look.
Add some flair to your tapered, curly hairdo by accessorising with complementary accessories. A hat, headband, or bandana are all great options for injecting some personality and colour into your outfit. Adding a necklace, bracelet, or a pair of earrings can also help draw attention to your attractiveness.
Tips and Tricks for Maintaining a Curly Hair Taper
A tapered cut for curly hair is not only trendy, but also practical. There are, however, measures you can do to maintain your curly hair's taper and protect it from damage like split ends, frizz, and dryness.
Some helpful hints for keeping your curly hair in check:
Use a curly hair shampoo and conditioner that are sulfate-free. Sulphates are harsh chemicals that can dry out your hair and make it brittle by removing its natural oils and moisture. Use products that are mild and moisturising for your curls because they require more moisture and nourishment than straight hair.
Use a mask or treatment once a week that has natural ingredients like coconut oil, shea butter, or honey to deep condition your hair. You may avoid breakage and damage to your hair by using a deep conditioner to restore its health and suppleness. You may either go out and buy a premade mask or treatment, or you can whip up your own using some basic recipes.
Instead of using a conventional towel to dry your hair, try a microfiber towel or an old t-shirt. Curls can become drab and sloppy if you dry them with a regular towel, which can produce friction and frizz. Towels and t-shirts made from microfiber are gentler on your hair and more effective at absorbing excess moisture without disrupting your curl pattern.
Maintaining a tapered cut for curly hair requires regular visits to the barber or stylist, or careful self-trims. If your hair has split ends or dead ends, trim them off so your hair looks healthy and lovely again. Maintaining your taper's length and shape, not to mention keeping it neat and tidy, is a breeze with a little touch-up work. Curly hair taper maintenance and touch-ups are recommended every 4 to 6 weeks.
Keep your curly hair taper safe from the damaging effects of the sun, chlorine, and other chemicals. Your curls may lose their shape and moisture if you use heat styling tools on them. The sun can diminish the vibrancy of your hair colour and make it appear lifeless. Hair that has been exposed to chlorine can lose its natural oils and become dry and brittle. Use a heat protectant spray before styling with hot tools, cover your hair when you go outside with a hat or scarf, rinse your hair with cool water before and after swimming in the pool, and use a clarifying shampoo once in a while to get rid of buildup.
Conclusion
Tapered cuts for curly hair are a great way to update your look and show off your individuality. They may be worn in a variety of ways and look great while also being low-maintenance and fashionable.
In this article, we've covered the basics of the curly hair taper, from its definition to its application to its maintenance. Our intention in writing this article was to encourage you to experiment with a curly hair taper and see how great it looks on you.
You Can Also Read Here How to Enjoy the Dream Beaches and Wild Natural Spaces of Cayo Cruz